Hickory Hill Baptist Church
Eugene , Missouri

Hickory Hill Baptist Church has semi-resumed church activites for the month of June and July. What does this look like? The Sunday morning service will be held in the gym. We will be following all social distancing rules and taking sanitation precautions. One family per table, all tables set 6 feet apart. Church service is at 9:30 on Sunday mornings. Sunday School and all other activies are still suspended, we hope to slowly open acitivtes and SS in August.
Pastor Steve Hogard will continue posting videos to the HHBC YouTube page. The upload schedule is: Tuesday-Devotional and Thursday-Sunday school lesson. See link below for all of the HHBC E-Videos:
HHBC 2020 VBS: Concrete & Cranes is almsot here, mark your calendars! VBS will be August 10th-13th, 6:00-8:30pm. Please contact Dana Korsmeyer for more information or registration at 573-418-8252 or dkorsmeyer66@gmail.com.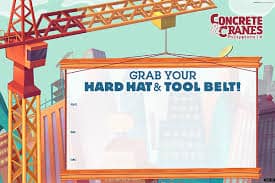 Watch this video to get pumped up! 
Our Mission
Our Mission is to bring people to Know and Grow in Jesus Christ so that we can go and show him to others.
Children
Team Kids
Vacation Bible School
Christmas Program
Pictures with Santa
CO2 Cars
HHBC Sports Ministry
Children's Sermons
Bible Drill
Trunk and Treat
Music
Christmas Program
Sunday Specials
Christmas Cantata in partnership with Immanuel Baptist Church in Jefferson City 
Women
WMU Activities
Women Bible Studies
Craft Night
Women's Conference
Operation Christmas Child
HHBC Values
People Matter – because people matter to God, they also matter to us.
Addicted to Jesus – being a church that is passionate over Jesus Christ.
Submit to God's Word – letting the truths of God's word give direction and have the final authority in our lives.
Share Jesus – let people know about the Good News of Jesus Christ.
Invest in Disciple-making – making quality disciples for Jesus Christ.
Offering Ourselves in Worship – being a church that worships Jesus Christ.
Need to be a Team Player – we all work together to accomplish the same mission.
12729 United Rd, Eugene, MO 65032